Decorate your home with one of our Beaded Banner™ Kits. You can find one for almost any occasion in our current line. Whether it is Spring, Summer, Fall or Winter, we will have a design for you.
Each Beaded Banner™ Kit is easy to put together using our peyote stitch designs and contain everything you need from start to finish. We include everything from the metal rod and hanging cord to our high quality Pony Beads. We even include the thread and needle so you don't need to find anything extra.
Our color instructions include easy to follow step-by-step illustrations and tips as well as a full-size full-color pattern to make even the most intricate design easy to follow.
There are several shapes and sizes of banners including:
Traditional Style – 9¾" x 14¾" (23 x 37 cm)
Bell Pull Style – 6¼" x 23¼" (16 x 59 cm)
Youth Style – 4½" x 6″ (11 x 15 cm)
Mini Style (mini pony beads) – 6½" x 11″ (16 x 28 cm)
Square Style (mini pony beads) – 9¼" x 9¾" (23 x 23 cm)
---
---
The Bead a Banner Line
Our new Bead a Banner line of beads and accessories includes everything you need to make your own collection of classic Beaded Banner™ designs from The Beadery® archives.
If you are new to making Beaded Banners™, click below to download and print out fully illustrated step by step instructions.
Beads:
We have those.  The same assortment of colors that our design department works with to create our designs will be available in 500 piece bags of our 6x9mm pony bead with a texture molded right in the surface that gives the opaque colors a matte finish and the transparent colors a frosted finish.
To download a chart of the pony bead colors available to use in your banners.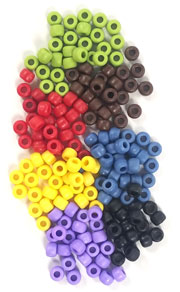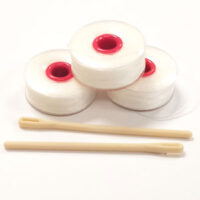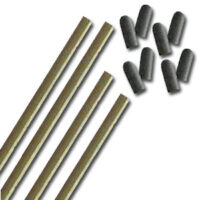 Accessories:
We have those also.  The thread and needles as well as the rods and end caps will be available in our store.  These pieces will come in convenient packages with enough to make 4 Beaded Banners™ each.  The rods are available in two different sizes depending on the size of the banner that you are making.
11″ rods with end caps
Traditional Style – 9¾" x 14¾"
Square Style – 9¼" x 9¾"
7.25″ rods with end caps
Bell Pull Style – 6¼" x 23¼"
Mini Traditional Style – 6½" x 11″
Patterns:
We definitely have those.  We are starting off with a small selection, but will be adding more periodically until we have our entire collection of 300+ designs available.  These are the full size color patterns that you can reuse to make as many banners as you want.  Each pattern also includes the colors and counts of beads needed.
If you can't find the exact design that you want, we also offer blank patterns that you can use to make your own.  Just use colored pencils or crayons to color in the blanks of the full size pattern and then use it to work on your own creation.
Check the Related Catalogs section below to see the complete list of Beaded Banner™ patterns available on our store.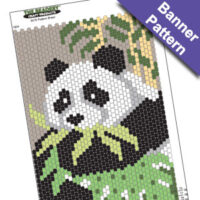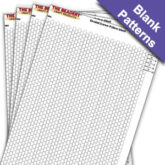 Shop for Beaded Banner Kits and Components
---
Project Ideas
Related Catalogs