In order to make some of your larger crafting projects a little easier and cheaper, we have packaged some of our most popular beads and stones in convenient ¼ Lb (113 g), ½ Lb (226 g) and 1 Lb (453 g) Super Value bags.
Some of the more popular product lines in our Value Bead bags include:
Pony Beads
Basic Craft Beads
Novelty Beads
Alphabet Beads
Spacer Beads
Pop Beads
Mosaics
Specialty Bead Mixes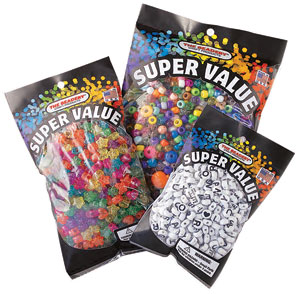 We now also package our Home Decor Buttons, Kandi Kids – P.L.U.R. Line, Ornapiks® and Pop Tabs™ in Value Packs.
---
Project Ideas
Related Catalogs