To aid in the construction of our Beaded Water Bottle Holder kits, we have written the instructions out and are making them available to download for free.
Just click on the kit instruction image below to download a pdf that you can view online or print out which has step by step instructions to make one of these kits.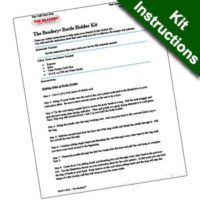 ---
Kit Instruction Updates:
Click one of the images below to download the updated fully illustrated instruction sheet for your kit.