Our Kandi Kids collection includes everything that you need to be the star of your favorite club or the bright spot of the next festival – more beads, brighter colors and new designs.
More Beads – If you have ever run out of beads in the middle of making something, we have the solution for you. Our beads now come in large bags and even larger buckets. Now you will be able to make enough bracelets and cuffs to cover your arms and legs and still have some left over or go all out and make an entire outfit. Our 1½ lb buckets also include stretch cord and needles and they have a convenient recloseable cover and handle for on-the-go creativity.
Brighter Colors – We have expanded our color selection to include more bright, neon and glow colors that really pop under black light. When you are not on the dance floor, there are also black and white beads that will bring the colors out. We have also added something new to our line. In addition to our silver sparkle beads, we also now have transparent colors with either gold or black flakes in them that give your creation a whole new shine.
New Designs – Our standard barrel and novelty shaped pony beads and spacers now have some new friends. We have added faceted pony beads, coin beads, novelty shaped buttons and slide beads to the collection to bring a whole new dimension to your creations. We also have flexible beading needles and stretch cord available.


---
Project Ideas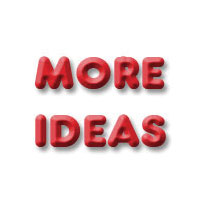 click here...
Related Catalogs